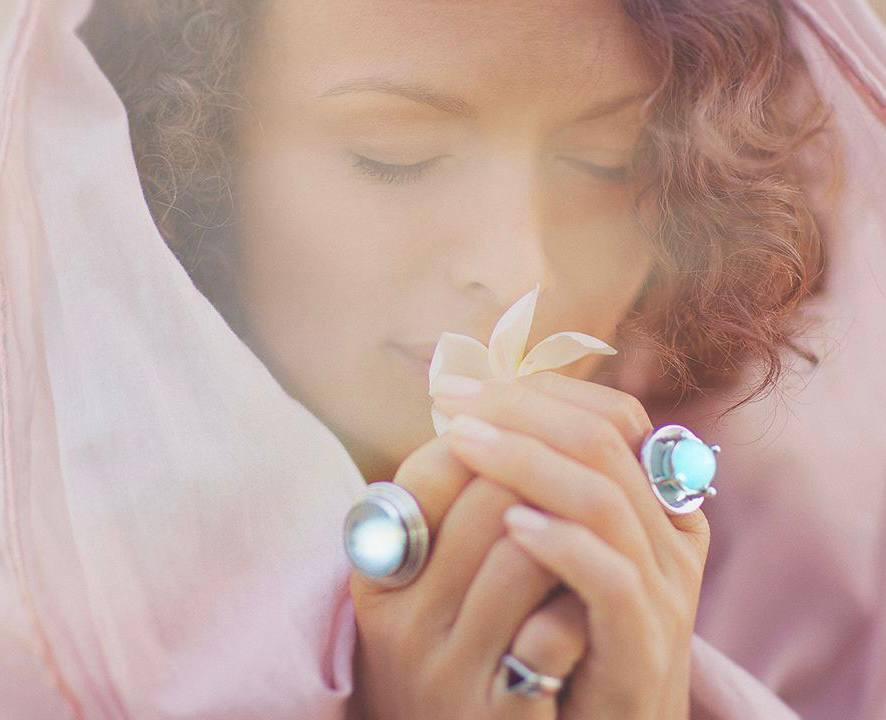 Our story
Kaora Sandara is an artist, jewelry designer, and founder of the About Angels brand. Kaora creates transformational tools to help people with their spiritual growth and transition to a new level of consciousness. When working with codes of sacred geometry and jewelry, she acts as a messenger of Higher Powers and a Keeper of Templates of Divine.

The About Angels jewelry line by Kaora Sandara is designed to provide energetic support, transform consciousness, and help with altering various aspects of life. The designs are based on principles of sacred geometry and all items are made by hand on the island of Bali. The distinguishing feature of the About Angels jewelry is the use of freely moving semi-precious stones of a spherical shape within the base.
Kaora Sandara

The internal energy of the stone is most brightly manifested in the form of a sphere. This perfect geometrical figure increases the inherent properties of specific stones. The round shape protects from negative energy, at the same time attracts positive energy and helps to concentrate it, restores inner peace and gives a feeling of inner integrity.
The codes of sacred geometry that became the basis for the creation of jewelry pieces were obtained as a result of channeling – a special meditative process that allows to receive information from the higher order. The codes are a message from the heavenly spheres embodied in the form of a sacred symbol. They contain a unique energy charge and have a high frequency of vibrations. When worn constantly, the codes have a positive transformational effect on various aspects of life. They help to accumulate energy, achieve success, perfect health and well-being, find love, meet the right partners for work and creativity, promote energetic cleansing and protection, connect with the Divine, and guide to the realization of one's life mission and the unfolding of the gifts and talents of the Soul, teaching how to move smoothly in the flow of Time.
At present, the collection includes more than 700 unique forms and is designed to answer the most current and meaningful requests. The jewelry can be worn in series, or combined, depending on your internal response. No matter where you are and what you are doing, magical helpers will fill your life with beauty, grace and harmony, giving the energy of transformation exactly where it is most needed.
Mindfulness jewelry
Elevate your style and spirituality with our collections of sacred symbols and mystic jewelry.
Explore products